When families join UConn KIDS, they complete an information sheet that collects contact and demographic information. This information is then entered into our participant contact database, and families join the thousands of others who have expressed an interest in our research. Families in our database are directly contacted by a UConn researcher when their child or children are eligible to participate in a research study.
Families may also contact UConn KIDS to check if their child is eligible for a study.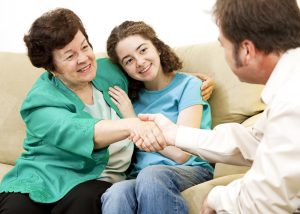 Participating in research can be a fun and stimulating activity for both children and adults. Research supports the development of new teaching strategies, therapies, and interventions of all kinds. Without willing participants, research would be impossible!
Sign up today to make your contribution to scientific discovery!
How do I join UConn KIDS?
Joining is easy! Choose 1 of 3 ways to join:
1. Click the Join Us button at the top of this page -- enter your family's information, and it will be sent to our UConn KIDS database.
2. Download our UConn KIDS Informational Sign Up Sheet -- email the completed sheet to our Child Research Recruitment Coordinator (kids@uconn.edu).
3. See us at a local community event -- complete our Informational Sign Up Sheet in person and hand it directly to one of our researchers or recruiters.
Please be advised that the form provided here must be completed by a parent or guardian over the age of 18. For more information, please call 860-486-3820 or email (kids@uconn.edu) to speak to our Child Research Recruitment Coordinator.
Who is eligible to join?
• All families are eligible to join our participant contact database.
• Our research labs and scientists study children and families of all shapes, sizes, backgrounds, ages, and abilities. In fact, diversity is a priority for us.
• Parents or guardians must sign up on their child's or children's behalf. We will always contact the parent or guardian about upcoming studies and never the child directly.
How will my family be contacted?
• When joining UConn KIDS, each family has the opportunity to provide their preferred method of contact (phone number, email address, mailing address) as well as the most convenient time to be contacted.
• Our researcher labs will do their best to use families' preferred method and time of contact.
Am I required to participate in research studies?
• When contacting families, our research labs always provide the opportunity for families to opt out of any study.
• It is always up to the family to decide if they will participate in a study or not.
• We understand the hectic lives that families lead. If you are contacted regarding a study that your child is eligible for and you are too busy to participate or do not want to participate for any reason, we will always respect your decision to decline participation.
Who has access to my family's information?
• Only the Child Research Recruitment Coordinator has direct access to the participant contact database.
• Research labs or scientists may contact the Child Research Recruitment Coordinator at any time to see if a family or child is eligible for a particular study.
• Contact information may then be given to the respective research lab using a secure protocol.
• The UConn KIDS database application runs on a secure, password protected system through the University of Connecticut.
• Family information will never be shared with anyone outside of the UConn KIDS organization at any time for any purpose.
• No family information will ever be made public.
How do I update my family's information?
• If your family has new contact information, a new preferred method or time of contact, has added additional family members, or would like to update any other information in our database, you can simply call 860-486-3820 or email (kids@uconn.edu) to speak to our Child Research Recruitment Coordinator to update your family's information.
• If you would like to be removed from our database for any reason, you may also give us a call or send us an email at any time.
Are there any additional perks to joining UConn KIDS?
• Free on-campus parking is offered for most studies at both the UConn, Storrs and UConn, Waterbury campuses. Ask before your visit.
• Families who participate in research may be compensated as a gesture of thanks with a t-shirt, stickers, gift card, coupon to the UConn Dairy Bar, etc, depending on the research study. Feel free to ask if you will be compensated before agreeing to participate in a study
• The UConn, Storrs campus is home to the Dairy Bar, a delicious ice cream shop famous in the Storrs area. The Storrs campus is also home to Horse Barn Hill. Grab some ice cream, see the horses (and cows, sheep, and other animals), and make a day out of your child's study participation.